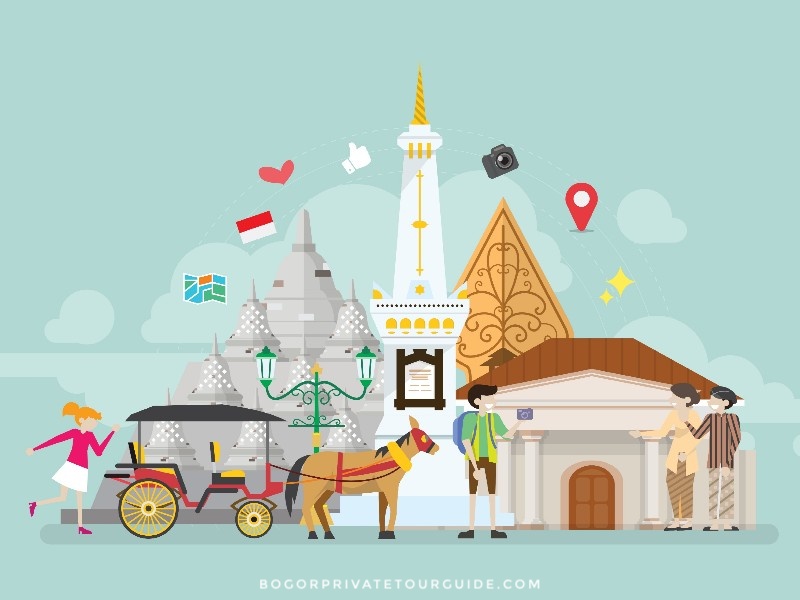 Jakarta is located on the west part of Java island, while Bali is located east of Java. If you take this overland trip by car from Jakarta to Bali, each day you will explore different activities, cultures, and see different landscapes on the way. Spend 13 days to visit Java until Bali from jakarta is enough. More days would be better.
Here is our suggested itinerary to do the overland tour via South Coast route.

Day 1, Jakarta City Tour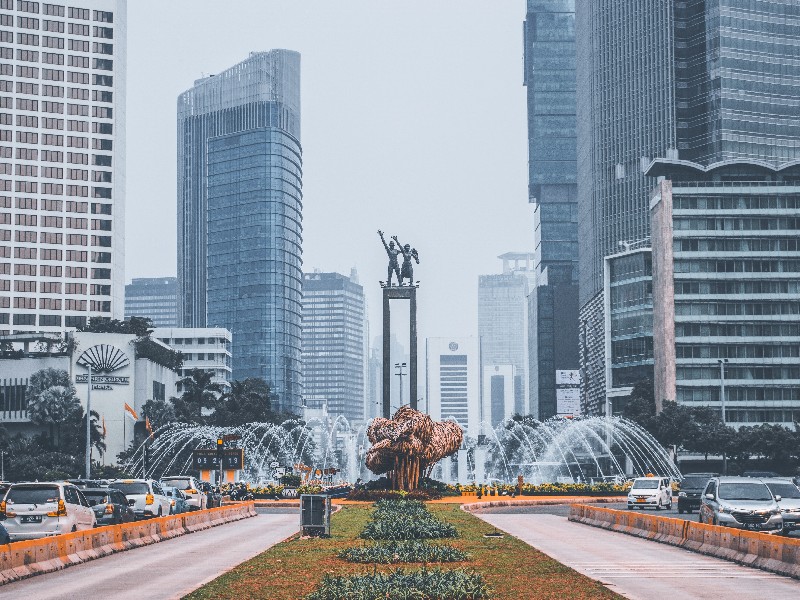 Welcome to Jakarta, the gate and the capital of Indonesia.
Our driver will meet and greet you on the first day. He will pick you up at your hotel, apartment, or airport in the morning.
On day 1, you will see the difference between old and modern Jakarta. You will also see the rich cultures of Indonesia in Indonesia Miniature Park.
To Do List
Visit Monas (Monumen Nasional),

Old town Batavia (Fatahillah Square),

Sunda Kelapa harbor,

Taman Mini Indonesia Indah (The Beautiful Indonesia Miniature Park).

Go to Bogor. Overnight in Bogor city.
Monas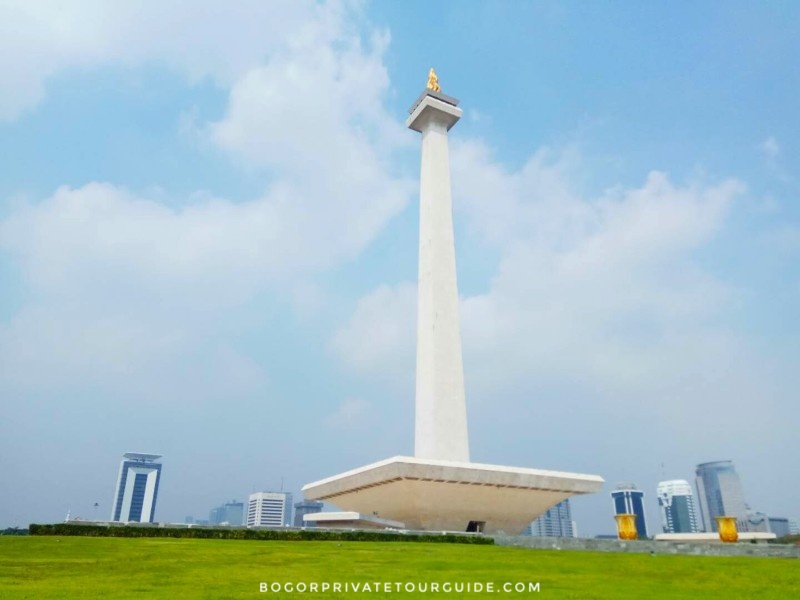 Monas or Monumen Nasional is a national statue to commemorate Indonesian strugle for Independence. The statue is situated in Central Jakarta. It is surrounded by importance goverment buildings, like Merdeka Presidential Palace, Governor Office, Supreme Court, etc.
This 132 m monument is the highest monument in Indonesia. Built by Indonesian first President, Mr. Soekarno in 1961, and completed by the second President, Mr. Soeharto in 1975.
The tower monument represents the philosophy of Lingga and Yoni. Lingga and Yoni are associated with harmony and fertility. They also resemble traditional tools: rice pestle and rice mortar. Lingga or the obelisk resembles an alu (rice pestle) and Yoni or the goblet resembles a lesung (rice mortar).
Sunda Kelapa Port
Right after you arrived at this historic port, you'll see many wooden ships docked alongside the port's dock. They are loading and unloading their cargos. Seen, few strong men unload the cargo from a truck that is parking in front of the ship to the wide rope that is attached to a crane; while another man is lifting it up and put it down to the ship deck using the simple crane ship.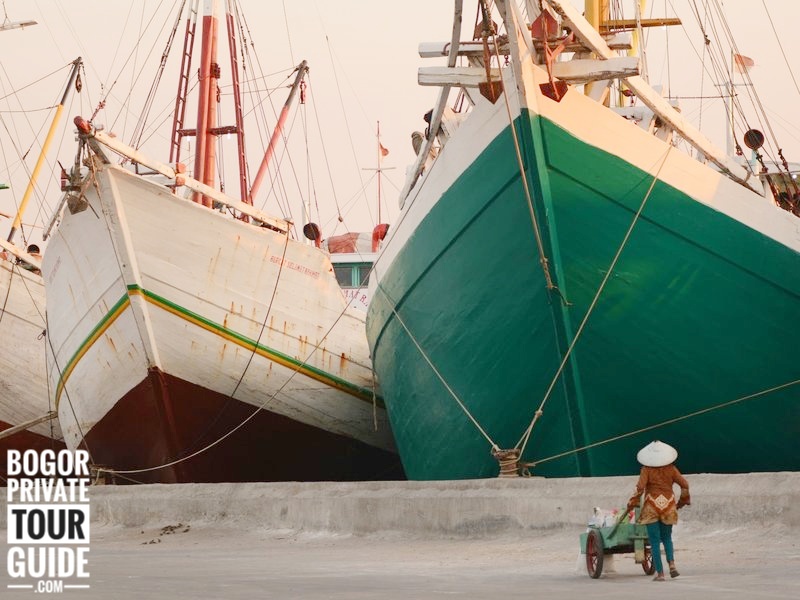 You will see that activity everyday at Sunda Kelapa port, except on Sunday and public holiday. On Sunday and holiday, the harbor is open for public but there is no activity. Eventhough there is no activity, taking photos in front of the wooden ships line is worth for visitors.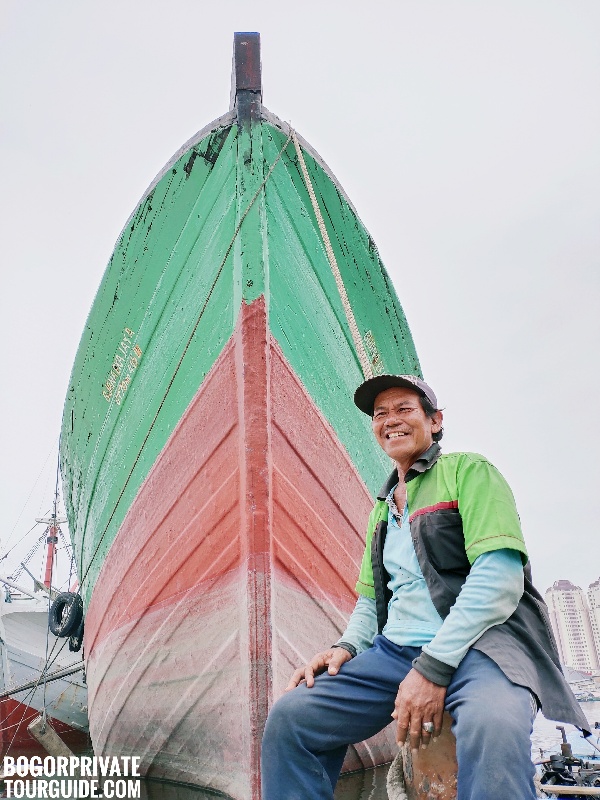 Few boatmans seen sitting at the dock side everyday, waiting for visitors to come and hire them. The hired boatman will take the visitors to sightsee around the edge of the sea using his boat.

Day 2, Bogor & Puncak Tour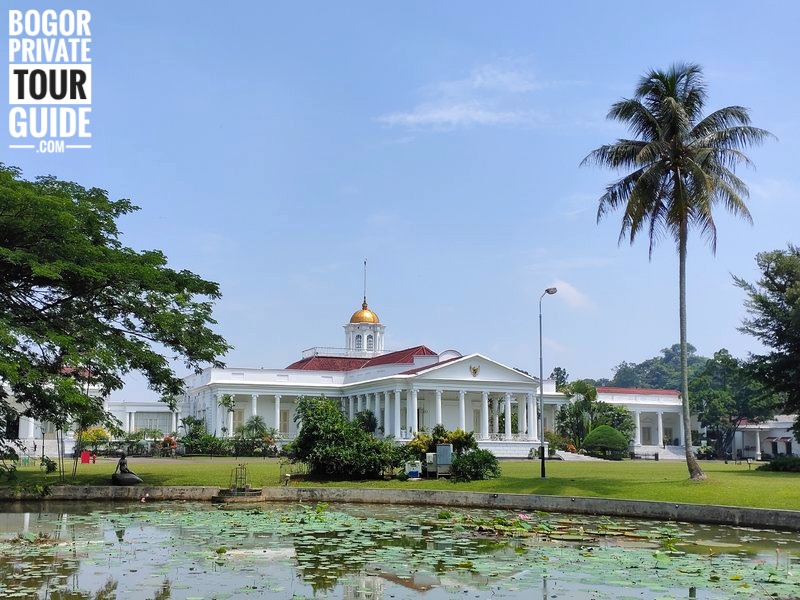 On day 2, we will sightsee around Bogor before go to Bandung via Puncak pass. Puncak pass route is the touristic and historic route. On this route, you will see the beautiful tea plantation along the side of Puncak highland road.
In this day, we expect to visit below places before heading to Bandung. Please note that traffic is normally not good every weekend and holiday. It is adviseable to do it on weekday. But it is still possible to be done on weekend.
Bogor Botanical Gardens

Golek Puppet Maker

Gunung Mas tea plantation

Go to Bandung. Overnight in Bandung.
Bogor Botanical Gardens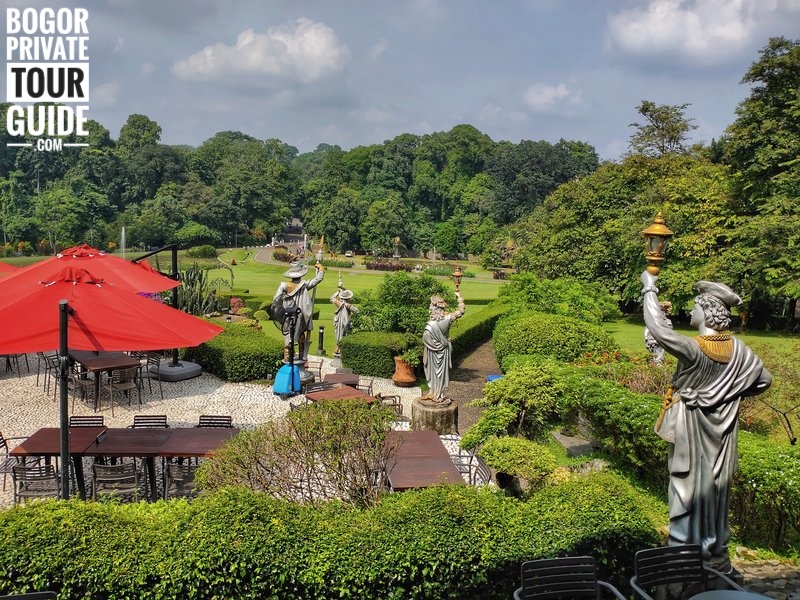 Bogor Botanical Gardens is a conservation for thousands plant specimens from Indonesia and other tropical countries. It is the oldest botanical gardens in the South East Asia. Officialy opened by Dutch government in 1817. But before it was opened by Dutch, Sir Stamford Raffles as British rule already relanscaped it with the help of botanist from Kew Botanic Gardens, London.
For more information about Bogor Botanic Gardens, please visit our other page: Bogor Botanical Gardens Tour

Day 3, Bandung Lembang Highland Tour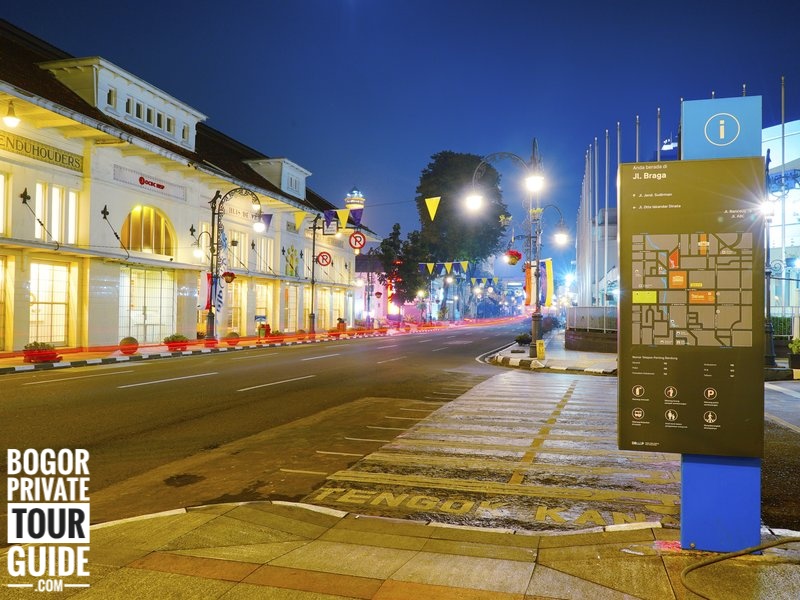 Bandung is the capital city of West Java Province. The city is surrounded by mountainous areas. Two famous beautiful mountains that attract many visitors to come are Tangkuban Parahu volcano in Lembang highland and White Crater in Ciwidey highland. In this day, we will visit Tangkuban Parahu volcano in Lembang highland. The volcano is not the only one attraction on the highland. Other attractions are Floating Market, Farmhouse, Cimahi/Rainbow waterfall, Cikole Luwak coffee farm.
Plan to do:
Visit Tangkuban Parahu volcano (Ratu Crater)

Go down to Domas Crater

Visit Floating Market

Go to Garut. Overnight in Garut.
Tangkuban Parahu Volcano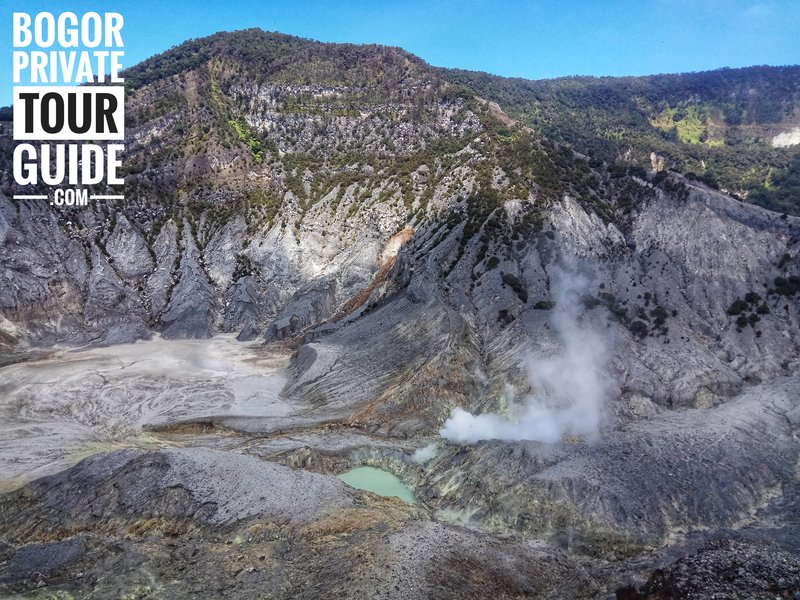 Tangkuban Perahu volcano is an active volcano located about 30 km north of Bandung city. The last eruption is in July 2019. The volcano was closed for few months during volcanic activities.
The volcano is named Tangkuban Parahu/Perahu, which means reversed boat, because it looks like an upside down boat if it is seen from Bandung city.
To go to the peak, you do not need to hike or walk. Vehicles such us car, van, and motorcycle are allowed to go up until the side of the crater on top. The crater on top where you can reach it by car is the biggest crater, named Ratu Crater (the Queen Crater).

Day 4, Garut & Tasikmalaya Tour
Both, Garut & Tasikmalaya are located on south of Bandung. They are small regencies with beautiful sceneries, worth to explore. Garut is famous for its Kamojang crater and Papandayan volcano. While Tasikmalaya is famous for its native Baduy village called Kampung Naga surrounded by amazing rice terraces.
Plan To Do
Visit Kamojang Crater

Visit Kampung Naga Village

Go to Pangandaran. Overnight in Pangandaran.
Dodol Garut
Garut is also known for its authentic snack called Dodol. It is made of rice powder mixed with coconut milk, fruit taste, salt, and brown sugar. The snack is sticky, sweet, and wrapped in a plastic paper wrap. Central Java also has similar local snack called jenang. But dodol is drier and stickier than jenang.
Dodol is popular to be served on Islamic big day, Idul Fitri. It is also popular as souvenir after visiting Garut. Because of its popularity, now, dodol has some variants and can be found on many big supermarkets outside of Garut. Some variants are original, nangka (jackfruit), durian, strawberry, pineapple, etc.
Kampung Naga Village, Tasikmalaya
Before reaching Kampung Naga village from Garut, you will see beautiful rice terraces alongside the road. This area is called Neglasari, a village part of Salawu district in Tasikmalaya Regency. Neglasari and Kampung Naga is very close. The territory is only separated by Ciwulan river, a river come which is come down from Mount Cikuray.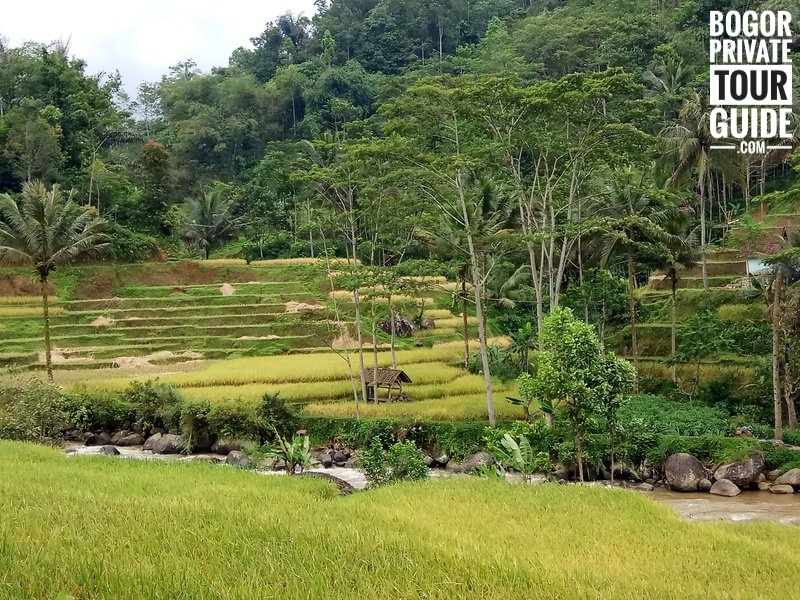 Kampung Naga is a cultural village that hold their ancestor rules strictly in daily activities. According to their ancestors rule, the should not build a house using cement or mortar. They should use wood. They also not use electric power. That is why this village is closed for visit before sun down.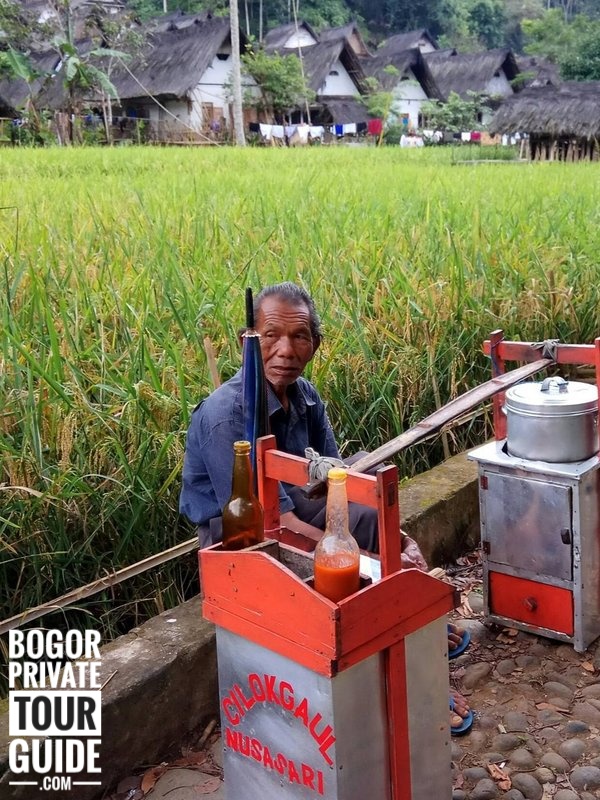 Kampung Naga got its name from local words, "Kampung Na Gawir", which means a village located on the cliff or hill. But according to its geographical position, the village is located on the valley and in the oxbow or meander of Ciwulan river. To enter the village, you have to walk down through more than 300 steps from parking area. Actually it takes time and need lots of energy to walk down, but the beautiful view from top will calm your mind. You will see many traditional wooden houses surrounded by beautiful rice fields.

Day 5, Pangandaran Tour
Green Canyon

Pangandaran National Park

Beach

Overnight in Pangandaran.

Day 6, Go to Borobudur
It takes some hours to drive from Pangandaran to Borobudur. After arrive in Borobudur area, you can check in at your hotel and take a rest. It is better to stay at hotel near Borobudur in case you want to take Borobudur sunrise tour in the next early morning. The recommended hotel is Manohara Hotel, because the hotel has the access to the temple entrance at sunrise time.

Day 7, Borobudur & Yogyakarta Tour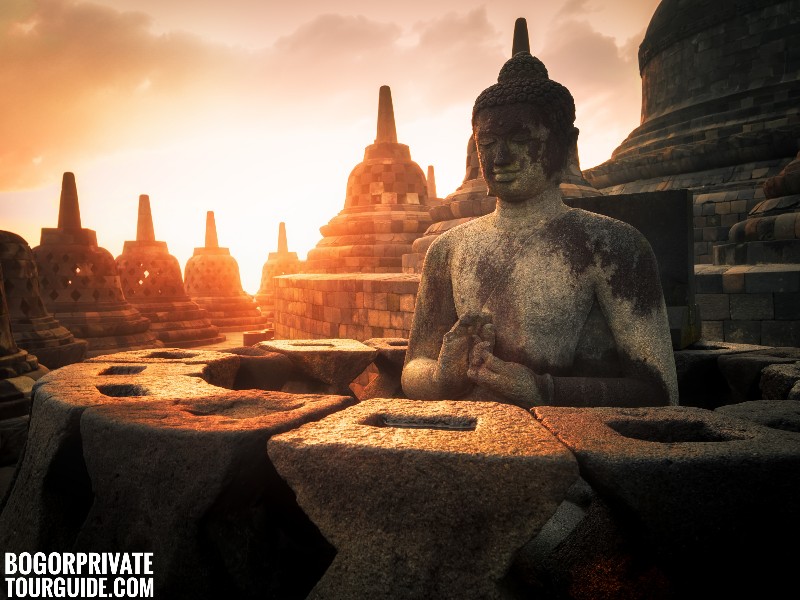 Sunrise is the best time to see Borobudur temple if you have the chance, because the view is also the best. But don't forget that it depends on the weather. If it is raining and fogging, the sunrise view is not too nice. So, check the weather forecast first before deciding, because the entrance fee is more expensive than regular time.
Things To Do
Visit Borobudur temple

Go to Yogyakarta

Visit Keraton Palace & Tamansari

Visit Malioboro street

Stay in Yogyakarta
Borobudur Temple
In 1814, when Indonesia was a British colony, a buried temple got attention. In this year, Sir Stamford Raffles, the British Governor of Indonesia went to Semarang, Central Java to follow up Mr. Tan Jin Sing's report and doing his routine administration task. Mr. Tan Jin Sing (Tumenggung Secodiningrat) was the regent of Yogyakarta. He reported to Sir Raffles that there was a mysterious site buried in Magelang.
Raffles was busy and had no time to check the mysterious location. Luckily, he didn't drive away all dutch people from Java after British acquired Java from Dutch. He then assigned Hillman Cristian Cornelius to check and open the site with the help of Mr. Tan Jin Sing. HC. Cornelius was a Dutch archaelogist who work for Dutch government in Java and lived in Semarang during the Dutch colonialization.
Cornelius lead the expedition to excavate the buried site. Many people were deployed to cut bushed, cut trees, and clear away tons of volcanic ash.
Few times later, Sir Raffles inspected the excavation. He found a colossal pyramid. No one knows what it was. It is Borobudur Temple.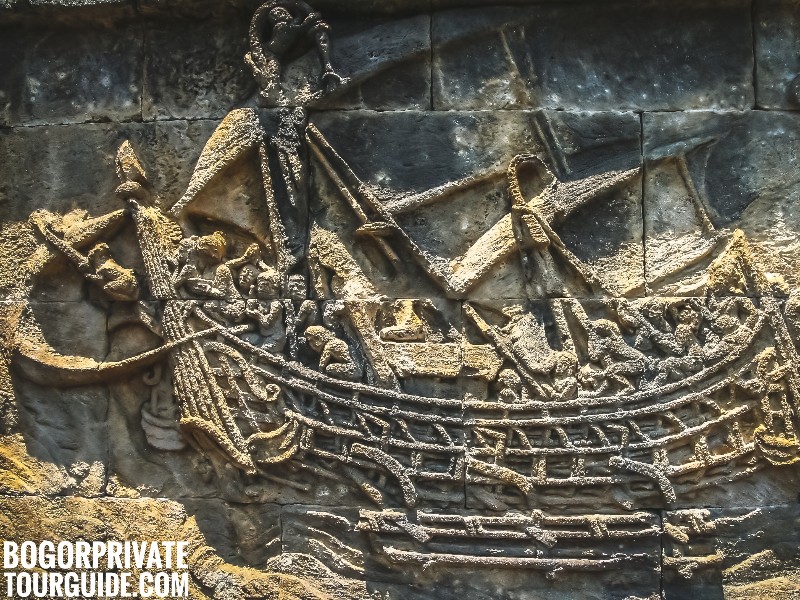 Day 8, Prambanan & Surakarta Tour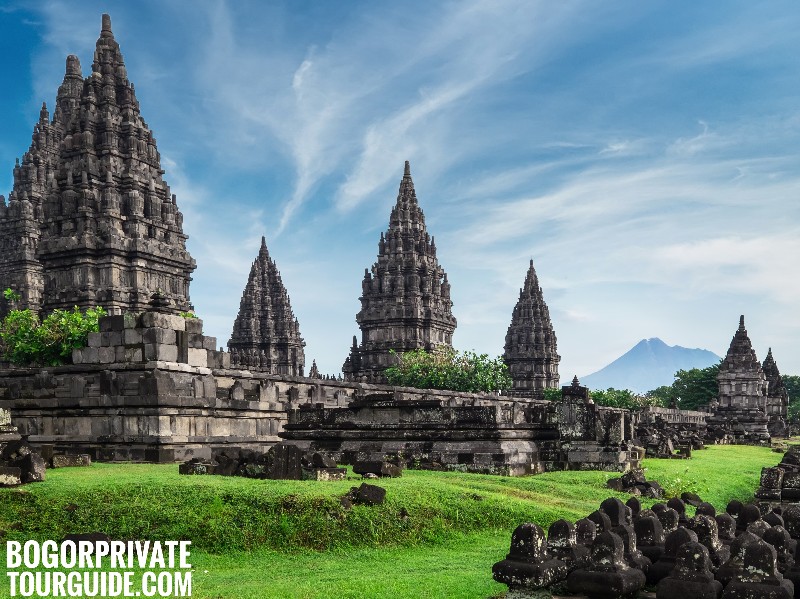 Things To Do
Visit Prambanan temple,

Keraton Surakarta,

Museum Batik Danar Hadi,

Stay in Solo

Day 9, Go to Madakaripura Waterfall & Cemoro Lawang
It takes some hours driving from Surakarta to Bromo. On the way to Bromo, you can make a visit to a beautiful waterfall, named Madakaripura. You can also visit the fall on the next day after visiting Bromo if it is raining this day.
To Do List
Visit Madakaripura waterfall

Go to Bromo. Overnight in Bromo.
Madakaripura Waterfall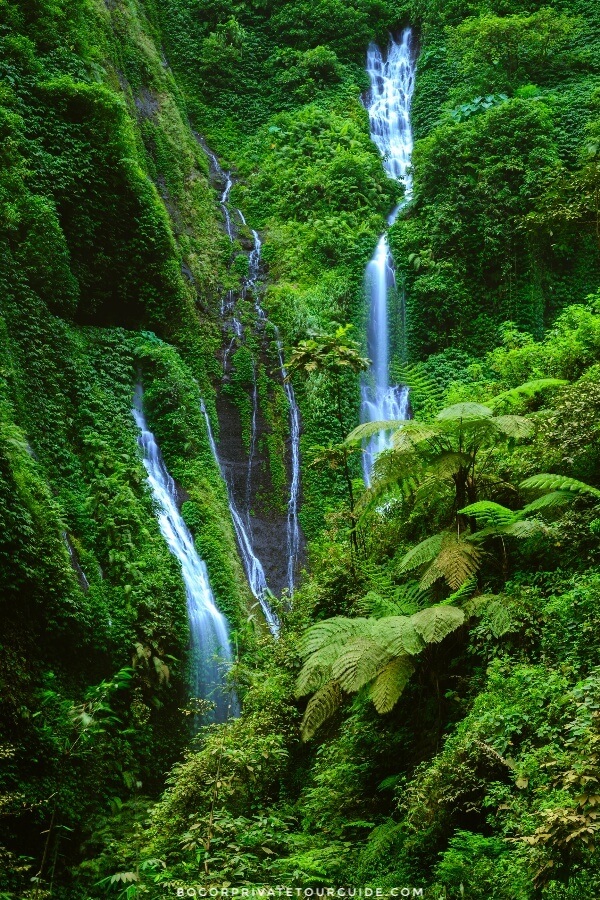 Located in Probolinggo regency and near Mount Bromo, Madakaripura fall is the highest waterfall on Java island with the height 200 m.
The waterfall is believed to be the final meditation place for Gajah Mada, the military leader and the greatest Prime Minister of Majapahit kingdom.
Go to Bromo via Cemoro Lawang
Bromo can be reached via Malang and Probolinggo. If we want to visit Ijen Crater after Bromo, it is better to enter Bromo via Cemoro Lawang, Probolinggo.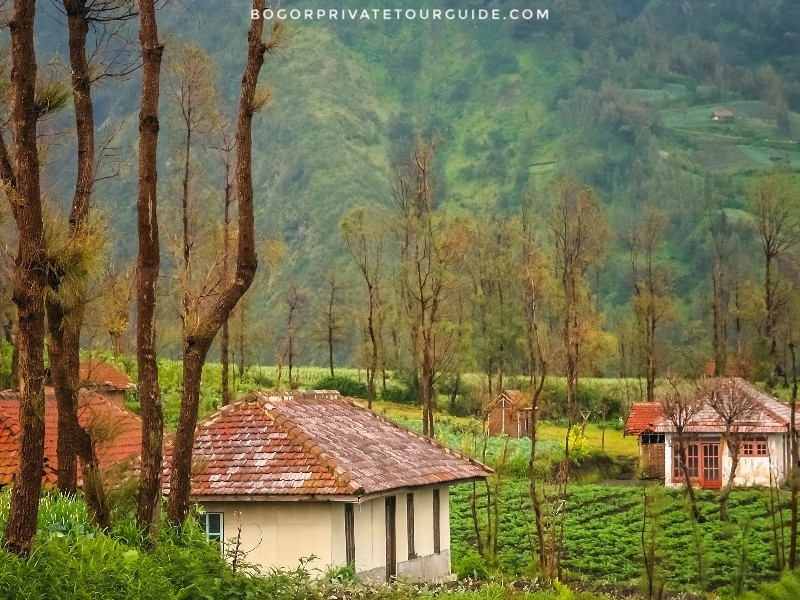 Cemoro Lawang is a village located on the slope of Mount Tengger with elevation 2,200 above sea level. It is a gate to Bromo-Tengger National Park from Probolinggo regency.
The word Cemoro means conifer tree, while Lawang means door or gate. So it has meaning Conifer Gate. It makes sense since there are many conifer trees in this village and the vilage is also a way to enter Bromo mountain area.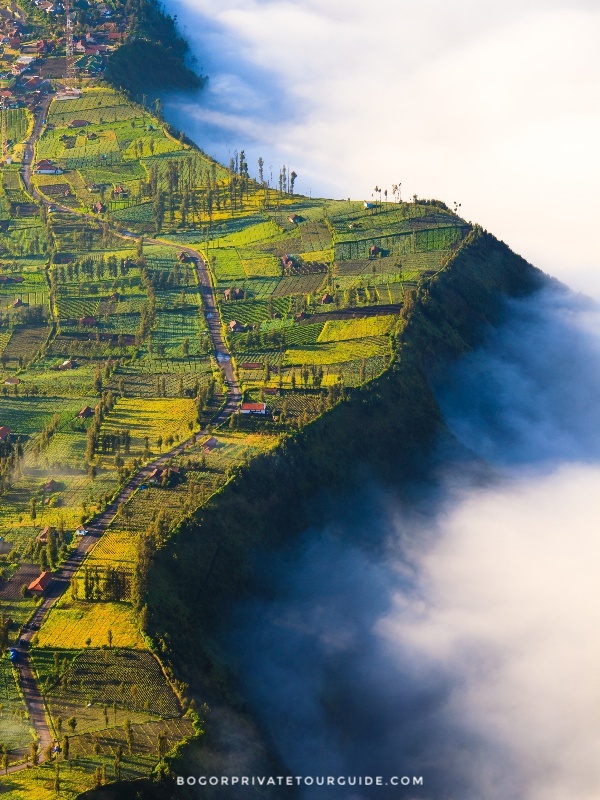 Cemoro Lawang village is inhabited by Tenggerese people. They are descendants of Majapahit Empire. They follow Hindu tradition from the empire era.
Reach Bromo
After you reached your hotel in Bromo, you have to take a rest earlier because you have to wake up earlier too, to visit Bromo before sunrise. Don't forget to make appointment first with a local 4WD Jeep/hardtop driver or ask our driver to help you book one. Private car is forbidden to enter Bromo Caldera area. You have to use 4WD Jeep or Hardtop car, motorcycle, or horse. The four-wheel-drive car one is recommended.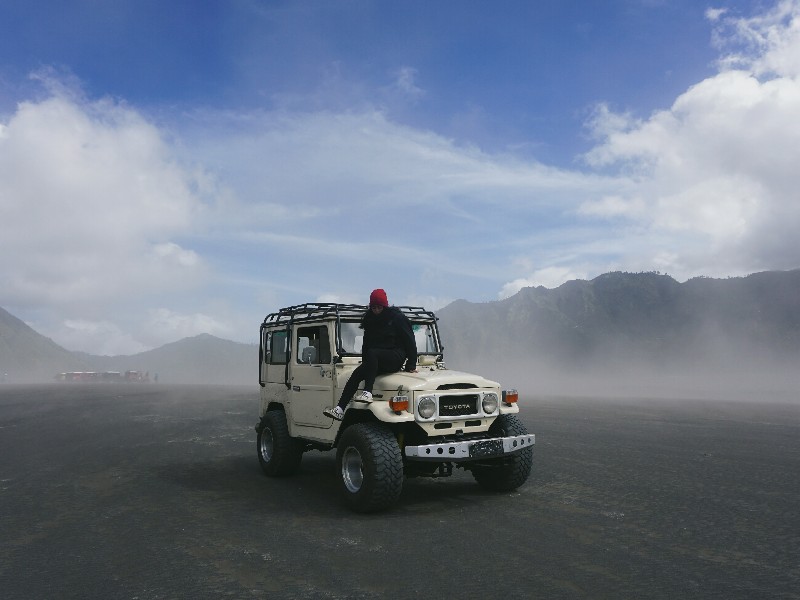 Day 10, Bromo Sunrise Tour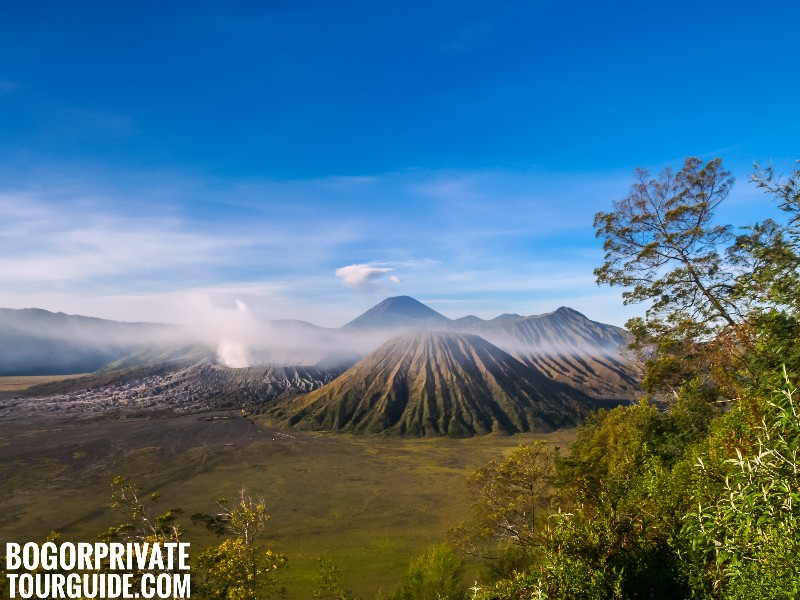 Penanjakan to see sunrise using a local jeep (King Kong hill)
Caldera
Savannah
Overnight in Bromo

Day 11, Go to Ijen
Go to Ijen village, Licin village, or Banyuwangi. Take a rest before hike to Ijen Crater at midnight.

Day 12, Ijen Crater Tour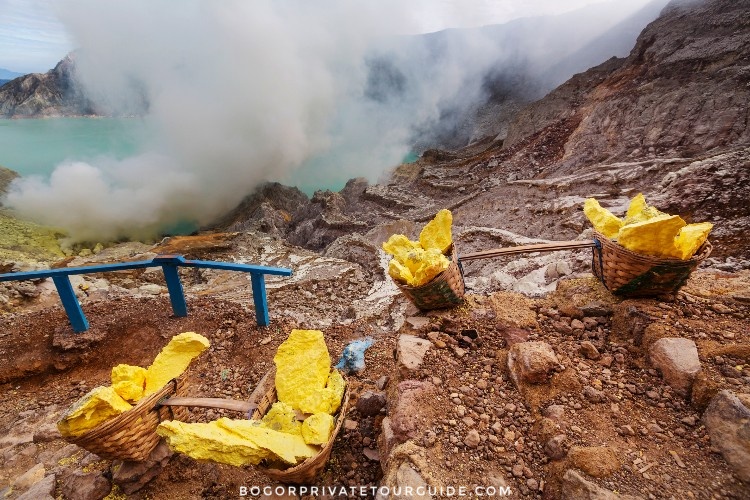 Before heading to Bali, make a visit to Ijen Crater. It is not a usual crater. It has a natural wonder that can only be seen on two places in the world. One on Ijen Crater and another one in Iceland. It is the Blue Fire.
Blue fire is caused by the heat of the crater combined with sulfur. It creates the effect of electric blue colored flame on the surface. People cannot see the fire all the day. It can only be be seen in the middle of the night until before sunrise.
After sunrise, you will see a distinctive local activity, sulfur mining. The mining is done traditionally and daily by local miners. Their job is very risky to their health. At about 2 AM, they walk up to the crater with distance about 2,5 km in the darkness night. They wear slim jacket and bring flashlight on his head. After reach the crater they have to walk down to the steep crater lake to get the sulfur. They breath strong sulfurous gas here.

Day 13, Bali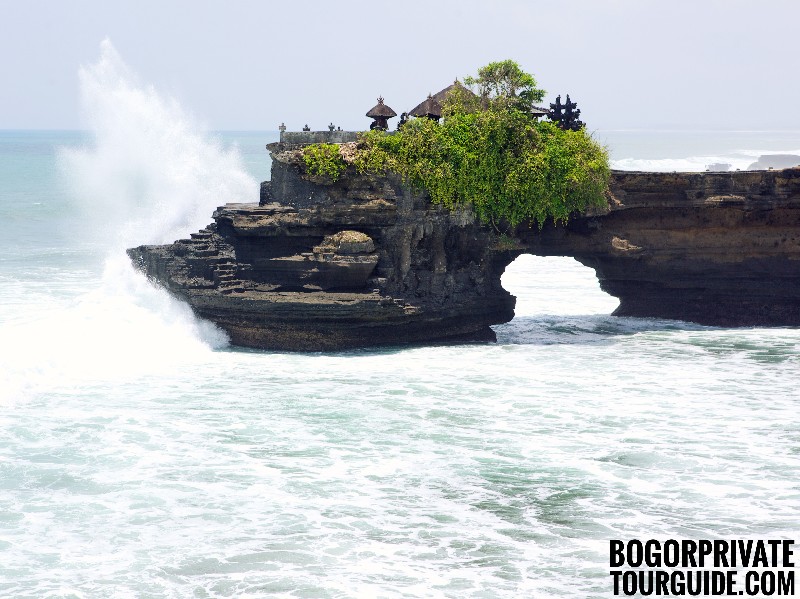 Visit Tanah Lot temple, Batu Bolong beach, and Kuta beach. Overnight in Kuta. Finish here. You can stay and relax in Kuta beach for few days, or continue to visit other places in Bali with us.