Celine Dion is a professional international singer. She is one of the most famous pop singer and successful performer in music history. Now, she is coming to Asia to entertain people with his beautiful voice. Celine Dion Live 2018 is her first concerts in Asia since the Taking Chances World Tour in 2008. On 10 January 2018, she announced the tour to journalists that she will visit Tokyo, Macao, Singapore, Jakarta, Taipei, Manila and Bangkok. In Jakarta, she will perform on Saturday, 7th July 2018, at Sentul International Convention Center.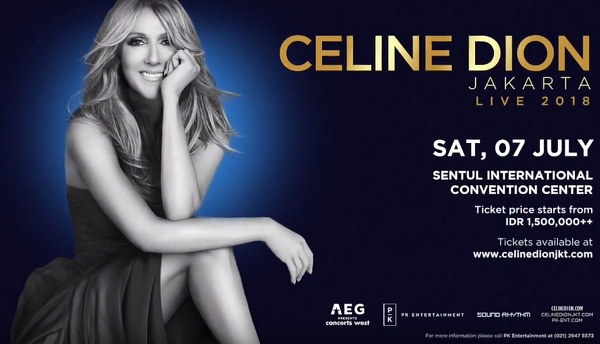 Sentul International Convention Center (SICC) is a big convention hall located in Sentul City, Bogor, West Java, about 35KM from Jakarta, the capital city of Indonesia. The hall can accommodate 12,000 people.
Few hotels near SICC: Harris Sentul, Neo Green Savana, Lorin Sentul, Hotel Olympic Renotel, Aston Sentul, Santika Bogor, Royal Amarossa Bogor, Favehotel Padjadjaran Bogor.